Registration is now open for the 32nd annual Mansfield Cares Golf Classic scheduled for June 5-6, 2018, at Reynolds Lake Oconee in Greensboro, Georgia. This year's event is packed with plenty of golf, skeet shooting, poker and musical entertainment. And the best thing is that it all supports a great cause.
If you remember Jefferson Airplane and Jefferson Starship, you won't want to miss Starship featuring Mickey Thomas. Thomas joined Jefferson Starship in 1979 and his voice has become legendary with hits like "We Built the City" and "Sara". This rocking group is the featured entertainment at dinner on Tuesday, June 5.
---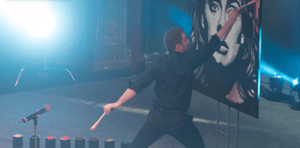 Tim Decker, a renowned performance speed painter, is the featured entertainment for the VIP reception on Tuesday, June 5. You'll have the opportunity to bid on his amazing creations.